Call the show at 402-498-5685

About Chip Maxwell:

Chip has done nearly everything ranked in the single digits in public approval polls – lawyer, journalist, politician, lobbyist, and of course talk radio host. He's a former Douglas County commissioner and Nebraska state senator who has been doing live talk radio on several local stations since 2001.
Chip is a born-n-bred Nebraskan – a great, great, great, great grandnephew of John & Edward Creighton, founders of Creighton University. He went to Creighton Prep and has a bachelor's degree in political science from Boston College, a master's degree in American history from Oxford University, and a law degree from UNL.
His wife, Pam, also a native Omahan, is a Spanish teacher at Gross Catholic High School. Pam and Chip have 7 children, 2 dogs, and no fear of any germ. Those children (and perhaps the dogs) live in fear that dad will make good on his continuing threat to "bust a move" and dance in public. Five of those seven children are teenagers.
Pam and Chip welcome your fervent prayers in support of their tenuous grip on sanity. And finally, the one thing about Chip that people really care about: Humorist Mary Maxwell (13 million hits on YouTube) is his mother.
Chip has written a book called "FIX IT NOW"! If you are looking for a great read check out Chip's latest book!

AND..

Save 30% by entering this code at checkout:

CJNPF9H7
Click here to purchase it now!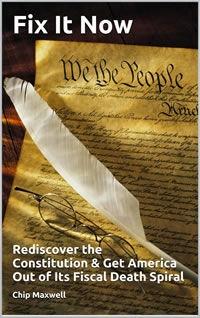 ***********************************************************************************

*************************************

About Ian M. Swanson
Ian M. Swanson is our resident conservative millennial whom Chip calls "the conscience of the show". Ian graduated with honors from Hillsdale College in Michigan, earning a Bachelor of Arts in Political Economy and (when he isn't on the air) is completing his masters degree in public policy. Like Chip, Ian has scar tissue from running for office himself, and carries around his pocket Constitution wherever he goes in order to prove some millennials do care about it!
Ian comes from a family of leaders. His parents, Sean and Julie Swanson, have planted two churches and are award-winning singer/songwriters. His sister, Megan Swanson, competed in Miss America as Miss Nebraska 2014, and his youngest sister, Allie Swanson, is an All-American basketball player at Evangel University in Springfield, MO.
You can also find Ian on "The American Way", airing Sat-Sun from 1-4pm on The Answer.

We want to hear from you! Email us today by emailing us at
[email protected]

Miss something on the show? Listen below to Omaha's Morning Answer: